Laparoscopic Cardiomyotomy
---
Conference Name: MASICON 2016
Surgeon(s)/Speaker(s): Dr. Roy Patankar
Surgical Procedure: Laparoscopic Gastrointestinal-Achalasia
Location: Joy Hospitals Mumbai
---
Indexsteps
1. Patient positioning : *Split legs/ Modified Lithotomy *Monitor on left head end *Arms tucked in *Reverse trendelenburg
2. Port placement : *Camera port :- 10 mm 2/3 rd 1/3rd distance from xiphisternum to umbilicus either in midline or to the left. *Liver Retraction :- 5mm in xiphisternum / Right anterior axilary line. *Stomach retraction :- 5mm in left flank. *Dissection :-5mm in each MCL, subcostal area
3. Liver Retraction : Toothed Grasper at crura or fan shaped retracteor underneath left lobe liver.
4. Stomach Retraction : Stomach Retraction using atraumatic bowel grasper
5. Crural dissection : Crural dissection
6. Myotomy : *Split the muscular fibres to expose the mucosa *6cm on oesophagus and 2 cm across GE Junction on the stomach.
7. Intraoperative endoscopy : Completion of myotomy is confirmed and myotomy completed if some muscle fibres are still seen across. 40-50% Circumference made bare.
8. Dissection Complete : Dissection Complete
9. Crural Fixation : *Separated esophageal muscle fibres fixed with right and left crura to prevent re-approximation of split muscle. *Suturing is done with 2/0 PDS or 2/0 silk.
10. Anterior Dorr Fundoplication : Anterior wall of fundus sutured with right crus. This prevents reflux and covers the bare mucosa.
---
port positions
1. Port position : *Camera port : 10 mm 2/3 rd 1/3rd distance from xiphisternum to umbilicus either in midline or to the left. *Liver Retraction : 5mm in xiphisternum / Right anterior axilary line. *Stomach retraction : 5mm in left flank. *Dissection : 5mm in each MCL, subcostal area.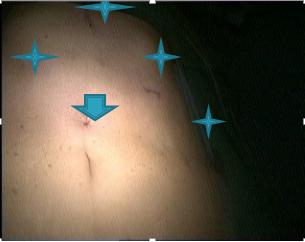 ---
precautionary_measures
1. Bleeding : Use gauze piece for pressure and clear field. Use harmonic or bipolar forceps.
2. Delicate tissue handling : *Delicate tissue handling.*Safe use of energy source
3. (Pre-op) Mucosal perforation : *can be recognised by installation of methylene blue dye in the esophagus
4. Incomplete myotomy : *Can result in post-op dysphagia
5. Other issues : *Myotomy fibrosis, fundoplication disruption or tight fundoplication
---
pre_post_measures
1. Preoperative investigations : Barium esophagram : shows proximal dilatation with distal esophageal narrowing (bird's beak). Advanced stages shows sigmoid / mega-esophagus):new:Esophageal manometry : Shows absence of peristalsis, raised LES pressure, insufficient relaxation of LES:new:Endoscopy : Done to rule out other causes such as pseudoachalasia (due to tumour at ge junction), to check severity of esophagitis, to check any possible malignancy
2. Preoperative measures : Fasting for 8 hours before surgery:new:If esophagus is dilated, it should be evacuated with a nasogastric tube:new:Oral antifungals are started
3. Postoperative measures : Nil by mouth for 24 hrs :new: Oral contrast study on first post op day :new: Liquid diet- soft diet- FD
4. Warning signs in the postoperative period : Fever due to pulmonary atelectases:new:Post-op reflux - if fundoplication was not performed
---
Surgical Instruments
1. Orogastric tube
2. Foley catheter
3. Liver retractor
4. 10mm Trocar
5. 5 mm Trocar